DISCOVER A
QUICK, SOCIAL AND SUSTAINABLE NEW WAY TO GRILL
>AG Grill is a "Barbecue" which combines simple design with top-quality materials such as refractory stone, steel, a chromed grill and finest walnut hardwood.
The shape and compact size make it quick and easy to use, so it is an extremely "social" product that enables everyone to cook together, with nobody "left alone" to do all the grilling.
Its compact footprint means we know we can use just what we need without producing any waste, making this a truly sustainable Grill.
TOP QUALITY CONSTRUCTION AND MATERIALS
FOUNDED ON RIZZOLI'S HUNDRED-PLUS YEARS' EXPERIENCE
Its compact footprint suggests a different type of grill compared to those we are accustomed to, prompting us to bring out the food's organoleptic properties.
The major difference lies in the fact that this product has not been designed for cooking large cuts of meat, but is instead ideal for skewers and smaller portions: this presents significant advantages in terms of both health and the time needed to cook food to perfection, with the possibility to control heat by simply adjusting the air intake.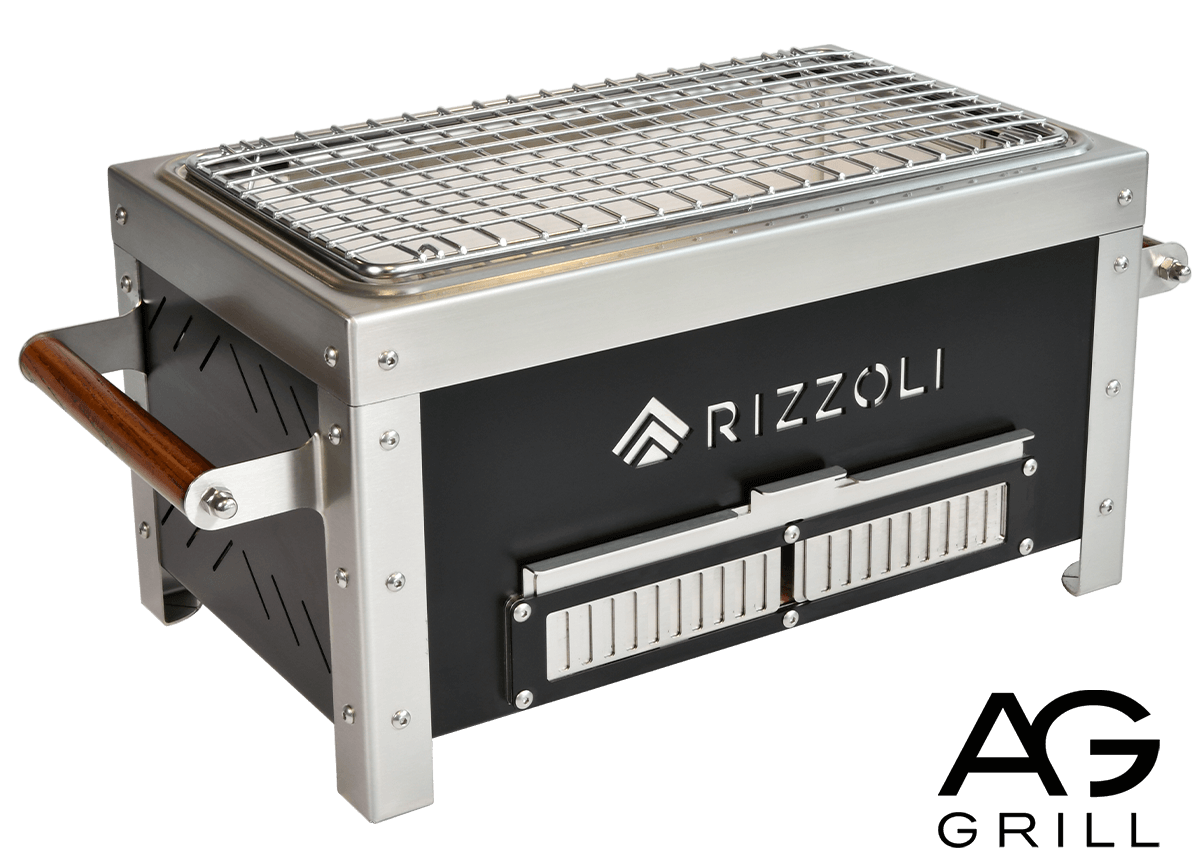 AG GRILL:
THE RESULT OF A GREAT COLLABORATION
BETWEEN ALFIO GHEZZI AND RIZZOLI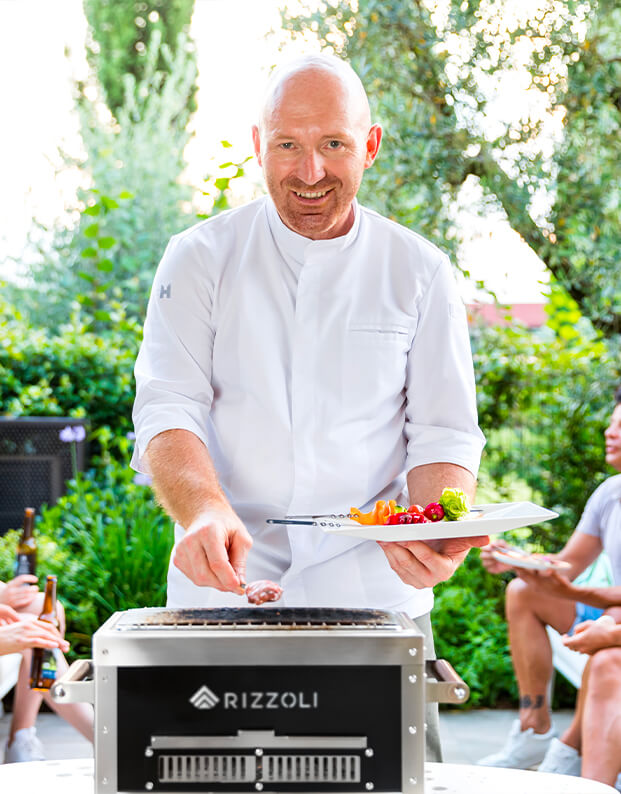 AG Grill is the result of a collaboration between chef Alfio Ghezzi and Rizzoli's hundred-plus years' experience. Together they found the right mix of "ingredients" that allows AG Grill to preserve food's original organoleptic properties.
Indeed, with the food being exposed to heat for just a few minutes, it takes on all the fragrant aromas of the wood while the chromed grill produces the irresistible Maillard reaction, but without blackening the meat: hence, you get less water loss coupled with superior flavour and texture compared to traditional grilling.
MICHELIN-STARRED CHEF ALFIO GHEZZI
TALKS ABOUT THE AG GRILL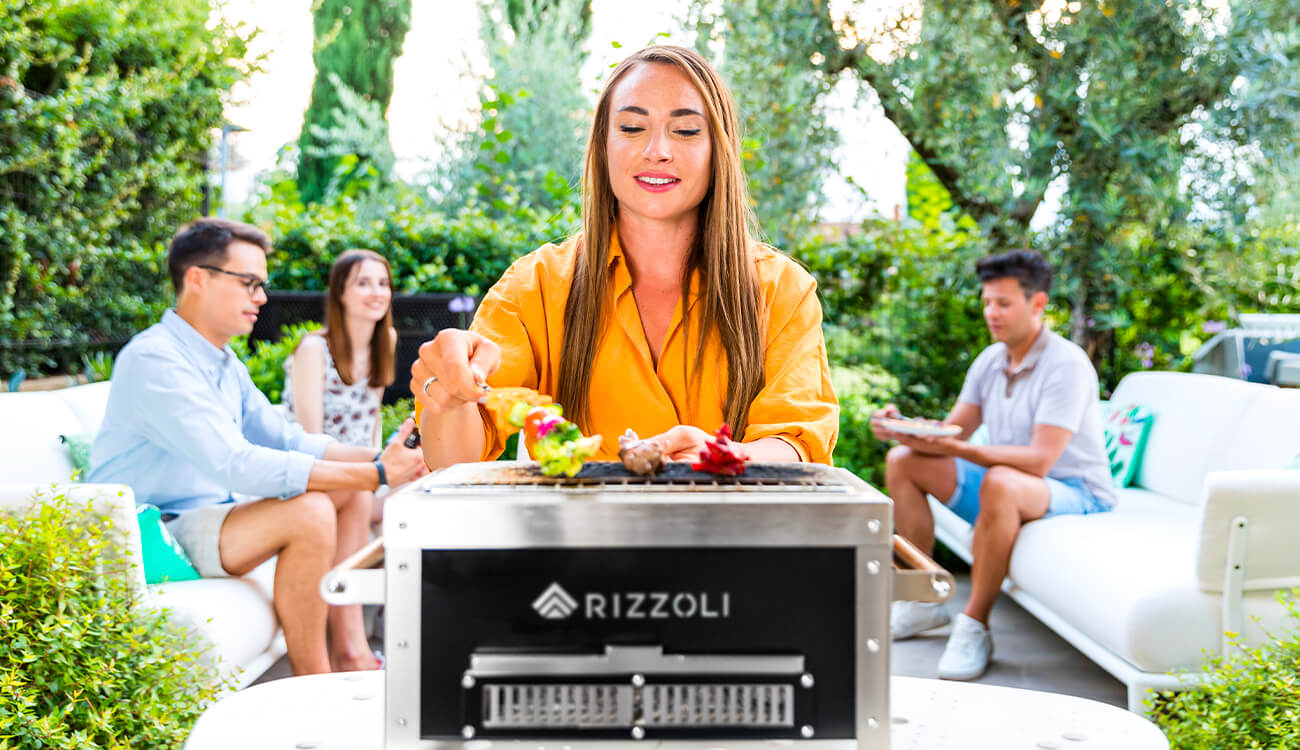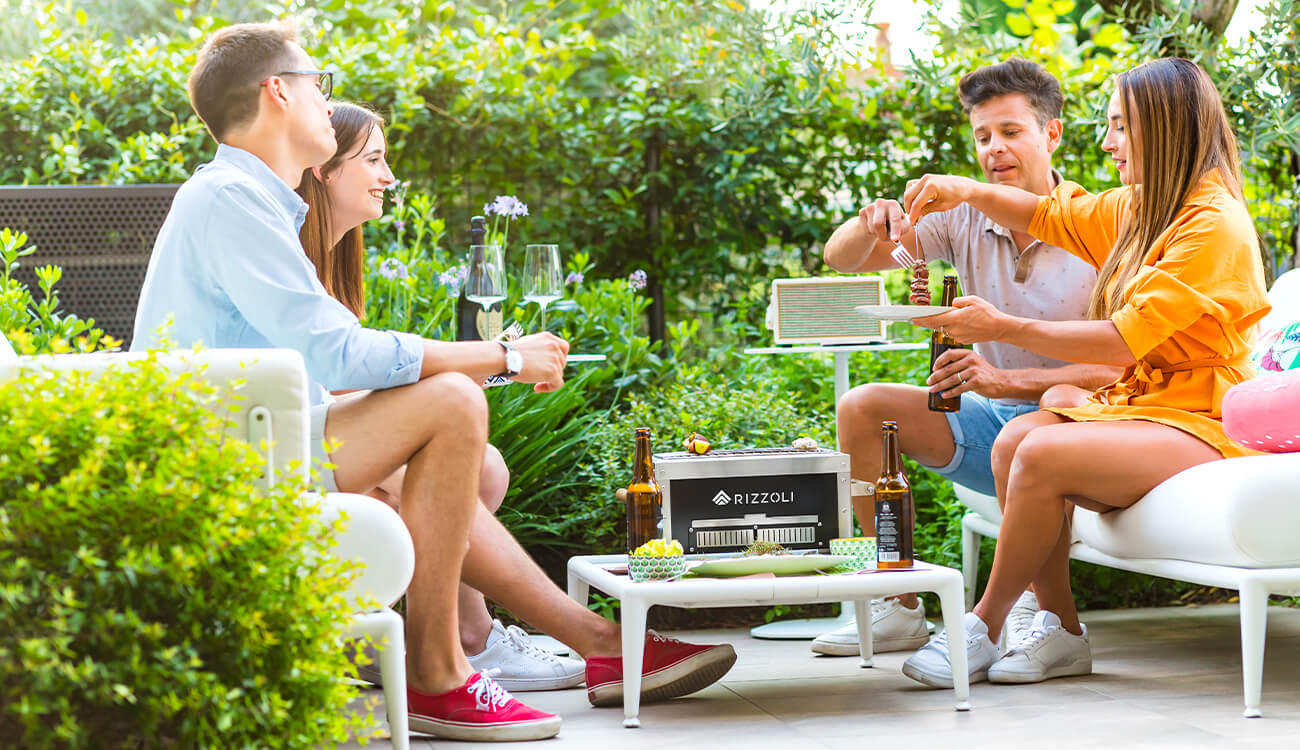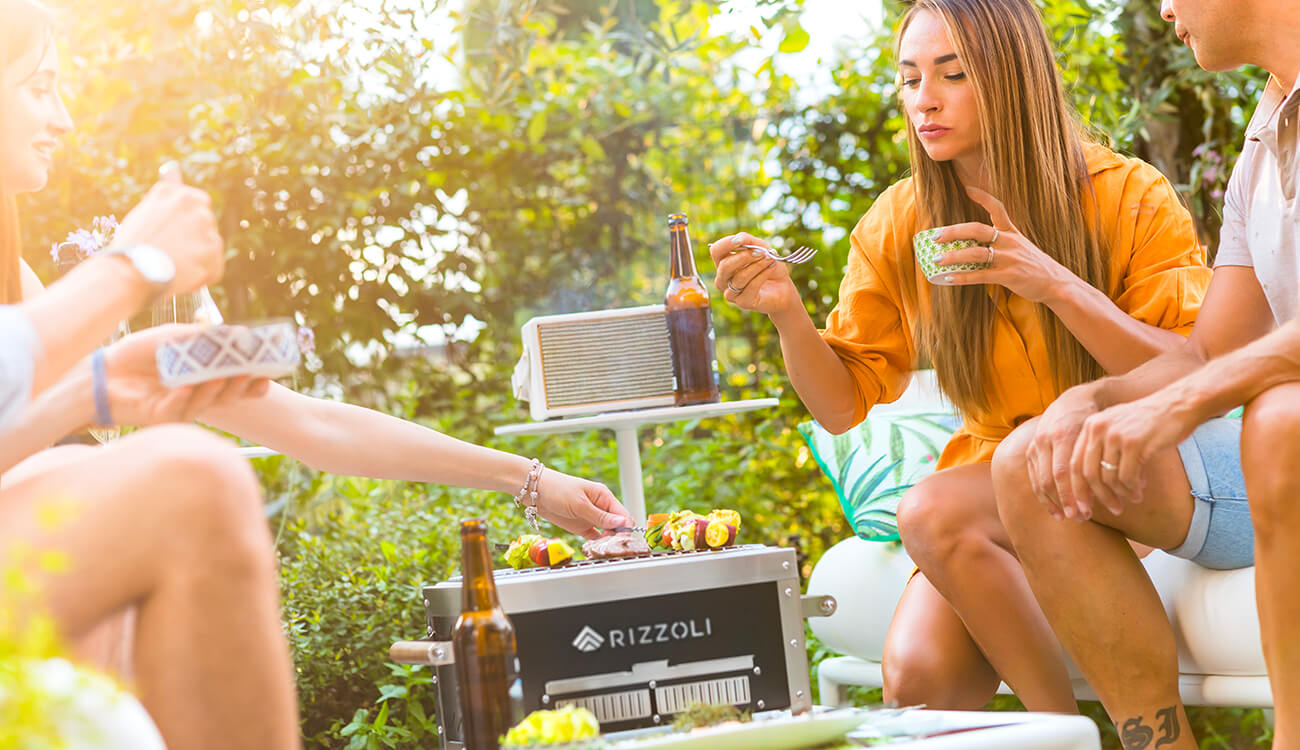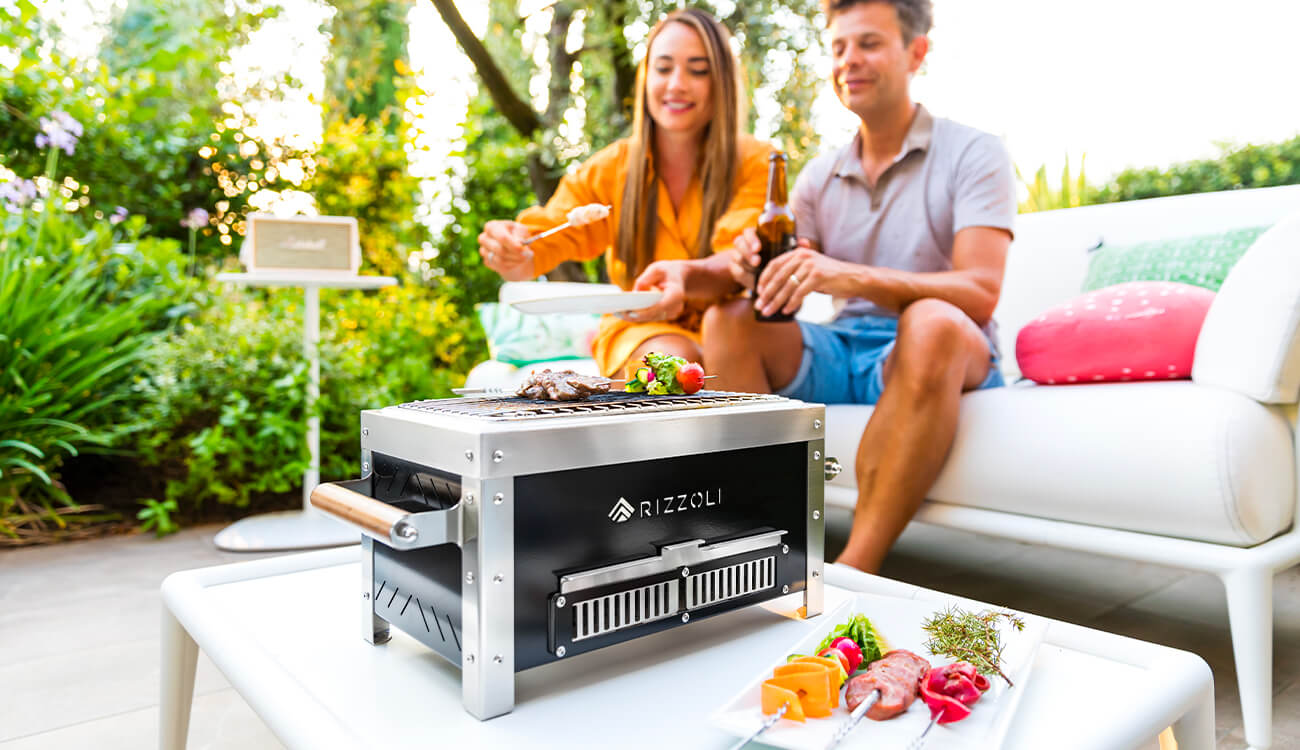 Combustion chamber entirely in certified refractory stone
Adjustable air intake for combustion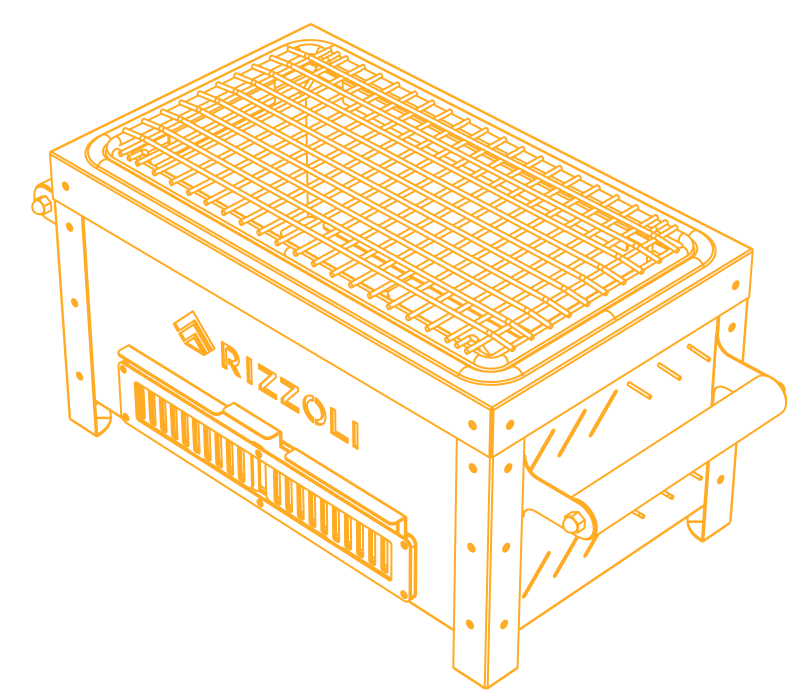 Practical ash collection tray
Air cavities for heat recycling
Insulated handles in walnut hardwood
Frame in stainless steel with moulding designed to prevent oil spillage
We have designed a chimney starter made-to-measure for AG-Grill, so you can get your charcoal lumps going easily without any danger or mess.
With our chimney you'll have perfect charcoal embers in no time.
Thanks to the insulated grip, you'll be able to move the charcoal easily without any risk of burns.
You won't have to touch the embers, move them around or do anything else.
Come funziona:

How it works:
The chimney fits into the Grill, so there's no mess (it is the perfect shape and size).
Place the lighter cubes on the refractory stone grill.
Fill the chimney starter with charcoal.
Wait 15 minutes.
Now lift the chimney and pour the embers into the Grill, ready for cooking.

Rizzoli chimney starter
AG GRILL:
COMPACT, CONVENIENT AND PRACTICAL
FILL THE FORM
AND PRE-ORDER YOUR AG GRILL NOW